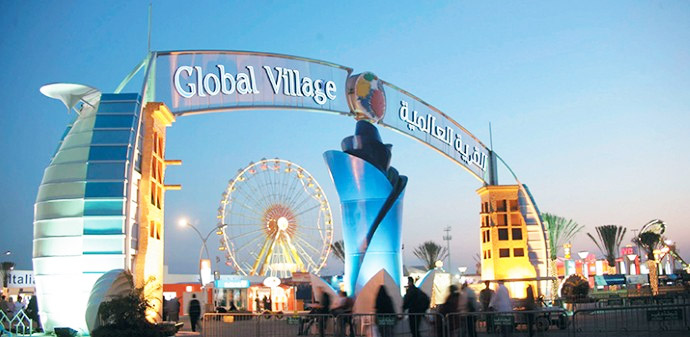 GLOBAL TOUR VILLAGE – FEEL THE COLOURFUL VIBRANCY OF DUBAI
Global Village in fact is a seasonal festive occasion and mainly a shopping extravaganza. Nearly 5 million people are expected to flock in this year.
In this grand fiesta, there are more than 30 pavilions; each of them is exclusively available for different countries to exhibit their handicrafts, cuisines and merchandise. Some of the countries participating are Qatar, Thailand, China, India, Italy, Egypt, Spain and Russia.
Besides, there is a series of entertainment programs and events that are definitely a pleasure to watch on your tour to Dubai. Fireworks, stage performance by celebrities, film tribute shows, circus shows and dance shows are just a few to be mentioned.  You can also opt for Fantasy island funfair where rides are offered for kids and even adults. Ferris wheels, dodgems and coasters etc. can be seen.
There are ATMs, foreign exchanges, beverages, restaurants, retail outlets, toilets and a lot more facilities.  Only a nominal fee is charged for admission.